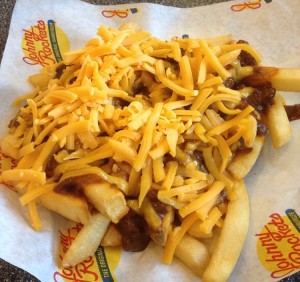 More like food aversions! I'm currently 4.5 months (18 wks) pregnant. I still have an aversion to chicken! I won't eat it unless it's fried or basically unrecognizable.  In general I'm not craving any meat which is horrible because its a great source of protein!
The only foods I crave are any kind of cheese (that are allowed during pregnancy) and bread! I will say that I do crave Johnny Rockets chili cheese fries from time to time but generally speaking no meat.
Its important to get natural nutrients from healthy organic foods during your pregnancy. Taking a prenatal Vitamin is recommended by doctors but in addition, you should be eating a lot of vegetables, greens, protein etc to get the vitamins naturally.
Foods you should be eating during your pregnancy for the optimal health of your baby: Healthy eating guide
Foods to avoid while you're pregnant: Foods to avoid