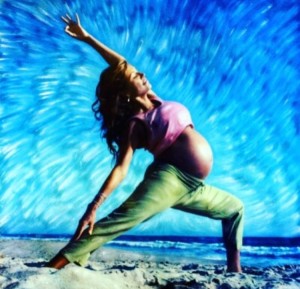 Ever take a prenatal yoga class while pregnant? Most classes are pretty easy with many modifications to keep a low impact workout.  Other classes like the one I took yesterday at Yoga Works, Montana was a level 2 prenatal class that seriously felt like a regular level 2 yoga class. There weren't any real modifications. Woman in their first, second and third trimesters were all bending and stretching like crazy! It was pretty shocking to watch and I kept feeling like, my body can do this but am I suppose to?
I stayed after class and spoke with the professional instructor from yoga works and she said yes, your body can handle it.
But as I dig deeper and read more about yoga and pregnancy there are a lot of descriptensies  about which poses are safe and which are dangerous throughout your pregnancy. I always believe you should be your own doctor in addition to having a professional one. You should research and feel comfortable before doing anything that a professional tells you is ok to do.
Don't get me wrong. Yesterday's class felt AMAZING! It felt so good to stretch my body after being so stiff and sleeping badly, now at week 20 of my pregnancy.  But again, we must be careful of over extending while we are creating a human!
Here is what I found in terms of danger of pushing yourself too hard in yoga during pregnancy numbers 1-6:
"Avoid or modify poses that compress the belly. This might mean that you offer a prop or two (like blocks under hands in a standing forward bend or lunge), present spinal extensions as forward-bend alternatives (such as dandasana, or staff pose, in place of a seated forward bend), or suggest a wider stance.  It also means that pregnant students should avoid lying on their bellies (especially after the first trimester). In place of belly backbends like bhujangasana (cobra) or shalabhasana (locust), offer similar-ish poses that can be done on all fours, like cow or opposite arm/leg extensions. Compressive "closed" twists—i.e., twisting toward the front leg side (in an asymmetrical standing twist like a lunge), or the bent leg side (in a seated twist like ardha matsyendrasana)—should be avoided for the same reason. Offer "open twists" to pregnant students instead. This basically means "twist in the direction opposite to that of everyone else." Pregnant students should also focus on opening up through the chest as they twist, not twisting from the belly." -yogainternational.com
2.  "During pregnancy, the hormone relaxin increases flexibility (the name itself is a bit of a giveaway!) and helps to prepare the body for birth. Because this influx of relaxin causes the ligaments to become more lax, pregnant students should take extra care not to overstretch. This can lead to pelvic and joint instability and/or pulled ligaments (which take a really long time to heal). To avoid overstretching, students should focus on strength and stability more than flexibility during pregnancy. This is especially important to keep in mind when it comes to hands-on adjustments. As a general rule, avoid giving "deepening" assists to pregnant students (i.e., assists that help them to experience a deeper stretch in an asana), and offer stabilizing assists instead (such as rooting a student's pelvis in tadasana, or stabilizing her back leg in side angle).
3.  "In general, if inversions feel good, students can continue to practice them, but it is a good idea to avoid inverting near the end of the first and beginning of the second trimester (weeks 10-13), when the placenta is attaching to the uterine wall. Pregnant students should also avoid inverting for long periods of time (stick with 30 seconds or less). If you're teaching long holds in inversions, a supported bridge pose (with a yoga block under the sacrum) with feet on the floor or legs in the air, is a great pregnancy-friendly alternative for most students.
4.  "Plank/Chaturanga: Encourage pregnant students to practice these poses with their knees on the floor, which will be more stable and supportive for their lower backs than practicing the poses in their traditional forms. (And it goes without saying that lowering all the way to the floor in chaturanga should be avoided! Stick with a few well-aligned "chaturanga push-ups" instead.)
5.  "Cut Out Kumbhaka: Pranayama practices involving breath retention (kumbhaka) should be avoided during pregnancy (as should powerful practices like bhastrika and kapalabhati). Remind pregnant students to breathe smoothly, evenly, and continuously, and suggest nadi shodhanam (alternate nostril breathing) or bhramari (bumble bee breath)—which are both wonderful to practice all through pregnancy—as alternatives to pranayamas that are contraindicated.
6.  "Avoid Lying on the Back If It's No Longer Comfortable (or If You're Not Sure): lying flat on the back for an extended period of time can compress the inferior vena cava (an important vein which returns deoxygenated blood from the lower body back to the heart)."